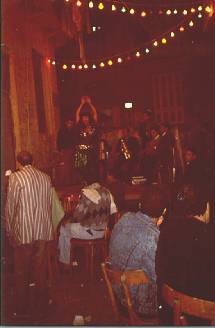 A wedding celebration in the street
Singers and dancers take turn and the musicians are asked to play a toba, an improvised solo, which is followed by a dance rhythm, the tit.
Every two or three minutes, the entertainers are interrupted by tippers. They come on stage and yell their congratulations to the family of the bride and groom in the ear of the man with the microphone. They continue, while waving ten-pound banknotes, to greet their friends, neighbors and colleagues. The ritual is concluded by a salam, a musical salutation consisting of a popular song, while the tip, the nu'ta, disappears into the bag of the musicians. The salam is interrupted by the next tipper who wants to give his greetings and congratulations. As guests arrive, they also have a right to be announced and greeted by a short musical salutation. Accordingly, the party is rather hectic. People now and then quarrel about the lack of respect paid to their tip or the length of time spent on the salutations of others. For the entertainers it is absolutely impossible to perform except late at night, when the party has calmed down.