Neyzen Akagündüz Kutbay
Encounters with a remarkable man

Karl Signell

online version of an essay for
The Ethnomusicology of Musical Art and Artistry:
Essays in Honor of Robert Garfias, forthcoming


Garfias once defined an ethnomusicologist as "someone who used to be a musician." Those ethnomusicologist-musicians of us for whom one music is not enough will always owe a great debt to the worldwide fraternity of musicians who warmly embrace us as brothers and sisters.

In the spring of 1970 I departed from the University of Washington for Turkey to spend two years' fieldwork there preparing to write my PhD dissertation under Garfias's guidance. From late-1970 through mid-1972, I learned the Turkish ney reed flute in Istanbul with master musician Akagündüz Kutbay.

I recount below my memories of him as a tribute to Aka and as a tribute to all the great musicians that Garfias learned from during his field work in so many countries.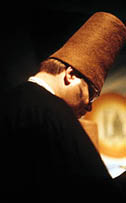 Lessons | Tests | Breathy sound
Ney making | Commissioning drum-making
Konya | Broad tastes | Sense of humor
Brief biography of Aka

Discography | Filmography | Other references

last revised 21 September 2008