The category of Greek songs known as the "nisiotika" or island songs, refers not to the music of all Greek islands, but to the islands of the Aegean (Cyclades, Sporades, Dodecanese, and the islands of the Saronic Gulf). Unlike the music of Crete, Lesvos or Cyprus, the nisiotika are not peculiar to an individual island, although particular songs may be exclusive to one or more of the island. While the music of the Greek mainland, particularly Epirus and Roumeli, became identified with Greek nationalism, and with the "serious" demotic tradition, the island songs were not tied to the nationalist platform. They had none of the weight of the Klephtic ballads or the clarinet music of the North, nor did they have the obvious drama of the lyra-backed Cretan and Pontic songs. Their lyrics were usually assigned a minor place in anthologies,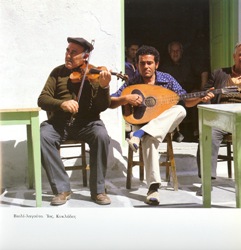 The common island duo of violin and lute.
Island of Ios, Cyclades.
Photo: Greek Ministry of Culture.
although their gentle rhythms and simple dances made them popular with a wider public. Some nisiotika, especially those associated with the Saronic Gulf islands, found their way into the rebetika repertoire, but they were not popular with young Greek audiences until they were revived in the 1970's by Mariza Koch, in recordings and performances backed by a mixture of rock and folk musicians. Recently Greek stars on the World Music circuits have begun including nisiotika in their repertoire, but it is impossible to appreciate the unique quality of these island songs without some knowledge of the language. The lyrics of the nisiotika are among the most striking in the Greek repertoire, employing a carefully-wrought poetic language that, far from sentimentalizing the life of the islanders, expresses their deepest fears and anxieties.